In Memory
Edgar Fritsch VIEW PROFILE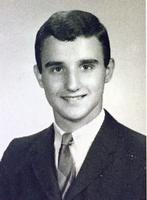 We received the information below of Ed (Edgar) Fritsch's passing from our UD classmate, Brad Cunningham:
I wanted to give you an update on Edgar Charles Fritsch who went to Westbrook Park Elementary School and graduated from UDHS in 1966. He passed away on 25 Mar 2020 at an assisted living facility in Columbus, OH. He died from complications from Agent Orange. Ed and Duane Paton '66 were in the Army and were stationed in Vietnam together where they both came into contact with Agent Orange. (Duane Paton died several years ago as a result of his contact with Agent Orange.) I [Brad] talked to Ed's wife, Becky, a year ago and she told me that Ed was in an assisted living situation suffering from Alzheimer's. When I called her yesterday to check on Ed's condition, she told me that he had gotten a lot worse and passed away on 25 Mar 2020.
After Ed got out of the Army, he moved to San Diego, CA, where he was a very famous Radio Station Host in San Diego for many years. About 3-years ago he Retired and moved to Columbus, OH, to be with his two (2) sons, David and Jonathan. We were really good friends. We played a lot of sports together, especially basketball where we won the Church Basketball League at the Methodist Church in Drexel Hill. He was a very amazing and intelligent person, and he will be missed by a lot of old Upper Darby friends.
Ed's wife, Becky, lives at 4166 Savannah Grove Lane, Columbus, OH 43221-5680.
I hope all of you are doing well with this Crazy Virus, so stay Safe and Healthy.
Brad Cunningham '66
Click here to see Edgar's last Profile entry.